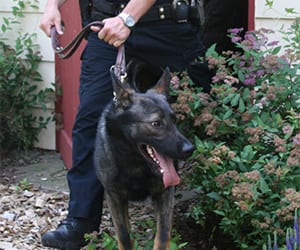 Being a Law Enforcement Officer requires being prepared at all times while on the job. You must rely on your equipment to provide unbeatable protection while allowing you the flexibility and durability to handle every task. The best police boots provide Traction, Support, Water Resistance and Lightweight Comfort. More police personnel are turning to ALTAI™ Multifunctional Tactical Boots for their professional footwear choice. An obvious reason is our technically advanced SuperFabric® uppers that keep performing in any situation that arises while on duty.
Comfortable Police Footwear
When you think of comfortable footwear do you immediately picture a tactical boot? Police officers who have wear-tested the ALTAI™ Tactical Boots just might say yes. When you are on your feet for extended periods of time, comfort is extremely important. So, just why is ALTAI™ footwear so comfortable?
EVA foot bed provides a durable, shock-absorbing cradle for your feet.
VIBRAM® outsole is a high performance rubber that provides impressive traction, grip, durability, stability, protection and waterproofing.
SuperFabric® upper protects your feet and ankles with breathable materials that incorporate tiny armor plates that resist puncture hazards and moisture. It is exceedingly protective, durable, stain resistant, quick drying, lightweight, supportive and comfortable.
Padded Ankle Support allows for comfort from the top down.
Breathable materials enable your feet to remain dry and fresh even in hot climates or artic temperatures.
Boot Last means that these boots are comfortable right out of the box without an extended breaking-in period to conform to your feet. They are designed to stay comfortable day after day for as long as you wear them.
Boot Engineered For Comfort And Protection
ALTAI™ Police Boots are engineered to reduce foot fatigue and provide all day comfort. Law enforcement personnel can find themselves in demanding or dangerous situations without warning. Your footwear must be up to the challenge of providing superior protection while remaining comfortable. While in an intense situation the last thing you should have to worry about is your tactical boots failing to keep up. SuperFabric® materials enhance the abilities to provide protection, durability, lightweight comfort and waterproofing.
We offer Free Shipping and Free Exchanges with No Risk!
Shop right now or call today at 800-806-2611