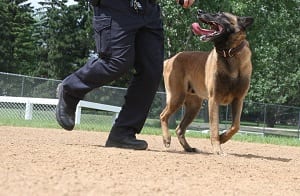 Our law enforcement and military personnel spend their careers, and sometimes their lives, fighting for the citizens in our country.  In fact, there is simply no way to ever thank them enough for their incredible service.  They put their lives in danger on our behalf every single day -- they should always be protected by high quality gear that will help them do their jobs.  ALTAI™ tactical boots are durable, comfortable, and highly protective, giving these incredible individuals the support they need.
Features Of The ALTAI™ Tactical Boot
The ALTAI™ tactical boot stands out from others on the market for many reasons.  These boots are water resistant, breathable, comfortable, lightweight and extremely durable.  Each pair of boots are required to pass a 500,000 underwater flex test and must not show any sign of leakage.  They are highly resistant to stains and made from SuperFabric® (upper section) and a Vibram sole to give each pair of these boots a long life, even for the most active law enforcement officer or military professional.
ALTAI™ tactical boots are the best choice on the market because they protect your feet, providing strong traction and allowing you to quickly move on all types of terrain.  They are lightweight and flexible so you can move quickly and are durable enough to keep your feet from being subject to the harsh elements.  These boots also have a speed lacing system that allows them to be tied quickly and put into action without hesitation.
Satisfaction Is Guaranteed With Our Tactical Boots
If you have been considering ordering a pair of ALTAI™ tactical boots, you should know that your satisfaction is guaranteed.  If you find that you need a different size, you can always exchange them (at no cost) for another size and incur no shipping costs.  You also have a full 30 days to return your boots if you are unhappy with the product for a full return.  Finally, if your boots fail to perform to your satisfaction within a year of purchase, you can also return them to ALTAI™ for a full refund.
If you are in law enforcement or a part of the military, you should have the equipment that you need to help you do your job.  ALTAI™ tactical boots are specially designed for those in the military and law enforcement who must be ready for anything, anytime.  To place an order for a pair of ALTAI™ boots, call 1-(800) 806-2611 or email our team at info@altaigear.com.