K-9 Competition Baxter MN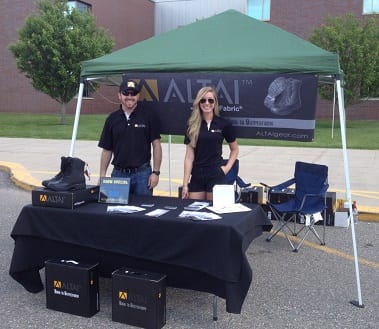 The ALTAI™ team loves being a part of the local community and we'd like to share with you a great experience we had back on June 23rd and 24th. Last month, the Baxter Police Department held their regional 2014 Police K-9 Trials in the Brainerd/Baxter MN area and it was quite an event. This competition brought a crowd of people, other non-competing K-9 handlers and officers - from all around.
The Variety of Events to Compete in:
Day One the K-9 Trials Included:
Agility
Obedience
Suspect Search
Article Search
Day Two the K-9 Trials Included:
Criminal Apprehension
Criminal Apprehension with Gunfire
Some of our ALTAI™ members went out there to visit with law enforcement officials, set up a booth and enjoy the professional competition. We also had an inside interest because ALTAI™ sponsored two teams, one of them being the first place duo, Ryan Sturm and his four-legged partner Ecco!
Ryan wore the ALTAI™ Tactical Boots for the entire event, which consisted of 3 days (unfortunately we couldn't stay for the Banquet) and he was more than willing to get some shots of him in them, with his trusted companion.
We were happy to be able to be a part of this law enforcement event and look forward to attending many other informing and entertaining events that are in our local area. This trial was a great success - for Altai, the Baxter K-9 Police Department, Ryan Sturm and the champion K-9 Ecco. They will be moving onto nationals and taking the ALTAI™ Tactical Boots with them!
"Trials ending up going every well for Ecco and I,  We took 1st Place Overall and we won Top Dual Purpose K9 Team of Region 12. Top Dual is a combined score from Narcotics Trial and PD1 Trial and we had the highest of all the K9 teams. I couldn't be happier with Ecco and his performance! " - Deputy Sturm
For more information on the boots our sponsored K-9 handlers wore explore our website. They're a versatile, leading tactical boot, specifically designed for law enforcement and military professionals, with highly innovative components - from the SuperFabric™ upper to the VIBRAM® outsole.
Contact ALTAI™ at 651-256-2007 or email us at info@altaigear.com, for any questions, information on events you'd like us to be attend or to order your boots today!