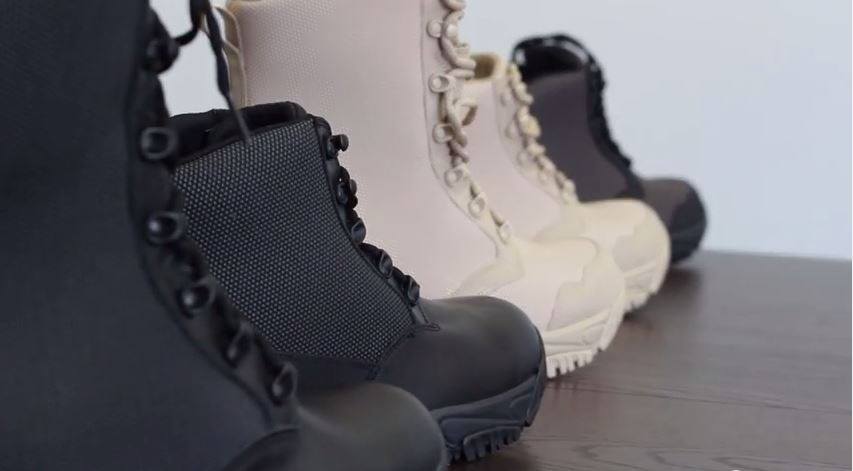 The everyday outdoorsman wears many different faces. Whether you are outside working on powerlines, chasing down criminals, marching in the military, or hiking through the swamp lands, the ALTAI™ brand has a boot style that will fit your needs. The quality materials that construct our tactical boots remain the same, but our boot designs for Military, Tactical and Outdoors offer their own set of individual benefits.
ALTAI™ MF 6″ Military Boot
To be in the military takes great strength, endurance and power. You must be professional yet still light on your feet and ready to swing into action. Our military boot is designed to help you do whatever job necessary every time you lace them up. These boots offer advanced mud guard, durability, are waterproof yet breathable, and are also stain resistant, abrasion resistant, and have a speed lacing system that can get you on your feet when you are in a hurry.
ALTAI™ MF 8″ Military Boot
Both the 8" and 6" have the same great features but the 8" comes with a higher upper boot. It is covered with SuperFabric® for extreme protection on the upper part of the boot. Both size boots are NTOA member tested and approved.
ALTAI™ MF 6″ Tactical Boot
Just like the 'little black dress' women slip on when they are ready to hit the town, these can be your 'big black boots' that are ready to roll when you are ready to hit up the outdoors. They offer a clean and polished look while also being lightweight, waterproof, and very durable. The midsole of the boot offers superior comfort and anti-fatigue for anyone that has to be on their feet all day.
ALTAI™ MF 8″ Tactical Boot
This style offers the same protection and comfort plus 2" of SuperFabric®. This look gives professionals, like officers in military or police force, a professional look that packs in a whole lot of action.
ALTAI™ MF 6″ Hiking Boot
The outsole of this boot is made up of a material called VIBRAM®. It is commonly used for hiking/trekking and provides superior performance. It has an advanced mud guard and anti clogging mechanisms so that you can handle hiking in all different types of climates.
All of our boots come in both men and women sizes. Our men's size is typically a half-size bigger than the normal designated men's size. Our women's sizing is generally a 1.5 size bigger than the designated women's size. So don't wait to order your ALTAI™ boots today. Whatever your style may be, ALTAI™ gear has you covered. To get a look at all of our different boot styles, visit https://www.altaigear.com/shop/ or call us today at (800) 806-2611.