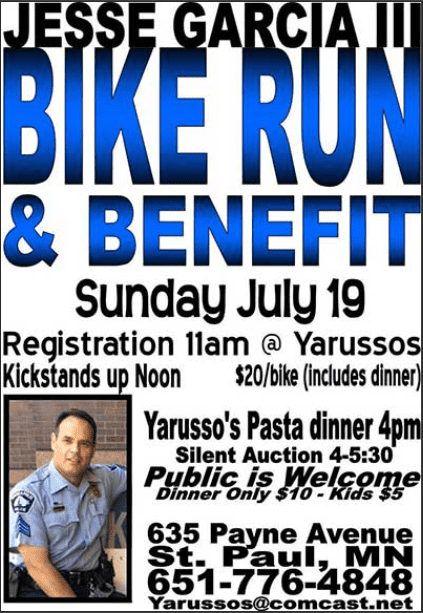 At ALTAI, we're constantly blown away by the sacrifices that the men and women that choose to wear our boots make for our great country. Whether it's by serving overseas or serving in local public service, these brave individuals work hard each and everyday to protect our country, often without any recognition, and sometimes with a bit of ridicule from those who don't appreciate their service.
Recently we heard about a Minneapolis Police Sergeant Jesse Garcia III, who is a 24-year veteran of the Minneapolis Police Department and was unfortunately recently diagnosed with stage-4 stomach cancer. Jesse is a 1985 graduate of St. Paul Johnson High School and joined the local police force in 1990 and hasn't left since. Jesse is a family man and has kids that light up his world. He's been an active contributor to the Minneapolis/St. Paul communities for decades and was even the media spokesperson for the Minneapolis Police Department for many years. Jesse is currently undergoing treatment, but the community has responded in droves to try and support Jesse and his loving family.
Local  Minnesota Community Hosting a Bike Run & Benefit to Support Jesse Garcia & Family
Members of the community have organized a bike run & benefit on Sunday, July 19th that will benefit Jesse Garcia and his family. The bike run will start at Yarussos Restaurant in St. Paul at 11:00am. Below are some of the event particulars:
Location:
Yarussos Italian Restaurant
635 Payne Avenue
St. Paul, MN
Registration Fees:
$20 per bike or dinner for only $10 for adults and $5 for kids
Event Hours:
Event starts at 11am
Kickstands are up at 12pm
Participants will return to Yarussos at 4pm for dinner
A silent auction will be held from 4:30pm – 5:30pm after the bike ride to benefit Jesse and his family.
Contact Numbers for More Information:
If you're interested in participating in the event feel free to contact one of the event organizers by calling (651) 776-4848 or (612) 554-2260.
ALTAI™ Participating in Silent Auction
ALTAI™ has agreed to donate a pair of our tactical boots for the silent auction and we'll also have representatives onsite during the event to honor the many contributions that Jesse Garcia has made to our great community.
We hope that you'll join us on July 19th at Yarussos Italian Restaurant to show Jesse and his family how much he means to the community of Minneapolis/St. Paul.