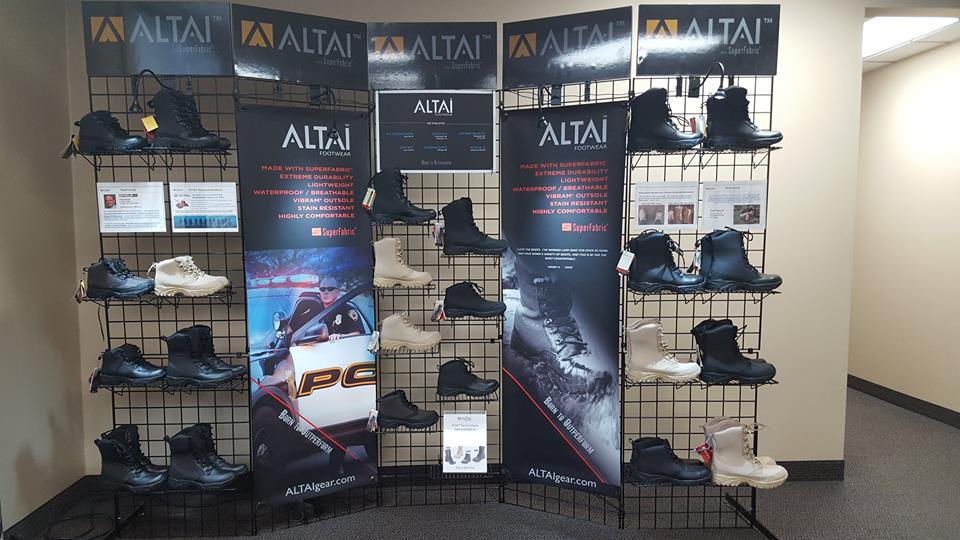 ALTAI™ boots are perfect for so many functions — they are ideal for those in law enforcement and military personnel, and also work well for hikers, runners or campers.  Anyone who needs a comfortable, durable and waterproof shoe that protects your feet, should consider adding a pair of ALTAI™ tactical boots to your shoe collection.  And, if you are hesitant to order online and you want to try on a pair and find just the perfect fit, you can now visit our local showroom now open in Woodbury, MN!
There are many things that set the ALTAI™ tactical boots apart from other boots of its kind.
Comfort: These boots are designed to be worn daily, in all kinds of conditions. The midsoles are built for comfort with ample cushion, support and a wide enough toe box to allow some breathing room.
Durability and longevity: ALTAI™ boots are built to last.  They are made from a SuperFabric® upper, custom Vibram® outsole, metal eyelets, and speed laces, creating a high quality product that will outlast extreme conditions and tough terrain. You can expect your boots to last years, instead of months like many other boots on the market.
Waterproof, lightweight and breathable: ALTAI™ boots are also waterproof, keeping your feet dry even in wet conditions, lightweight and breathable. Our SuperFabric® upper combined with a waterproof liner and full gusset will protect your feet from moisture and all of the materials used were chosen because of their ability to breathe.  This is a combination that is nearly impossible to find in a boot, but the creators of the ALTAI™ boots have put it all together just for you.
How To Purchase A New Pair of ALTAI™ Boots
You can order a pair of ALTAI™ boots online in a wide variety of colors, sizes and styles.  Prices range from $99.99-$159.99 and these boots can now also be purchased at local retailers, including our location in Woodbury, MN.  So, you can choose the way you want to shop!  If you are someone who likes to touch and try on an item before you make a purchase, you may want to visit our showroom.  If this is not your first pair of ALTAI™ boots, you may want to shop from the comfort of your couch!  For questions about ALTAI™ tactical boots, to find a local retailer, or to speak with a member of our customer service team, call us toll-free today at 1-800-806-2611.