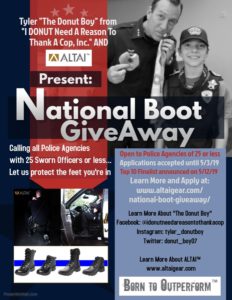 Our National Boot Giveaway is underway so if you haven't voted yet, hurry while there's still time! Vote for your favorite local police department listed here, for a chance to outfit that entire department with pairs of our tactical boots.
The first team to reach 5k votes wins; one vote per day allowed, so share with friends, family, and anyone you know who wants to Back The Blue!
We are proud to be in partnership with Tyler of I Donut Need A Reason To Thank A Cop in this effort to give back to the men and women in blue!