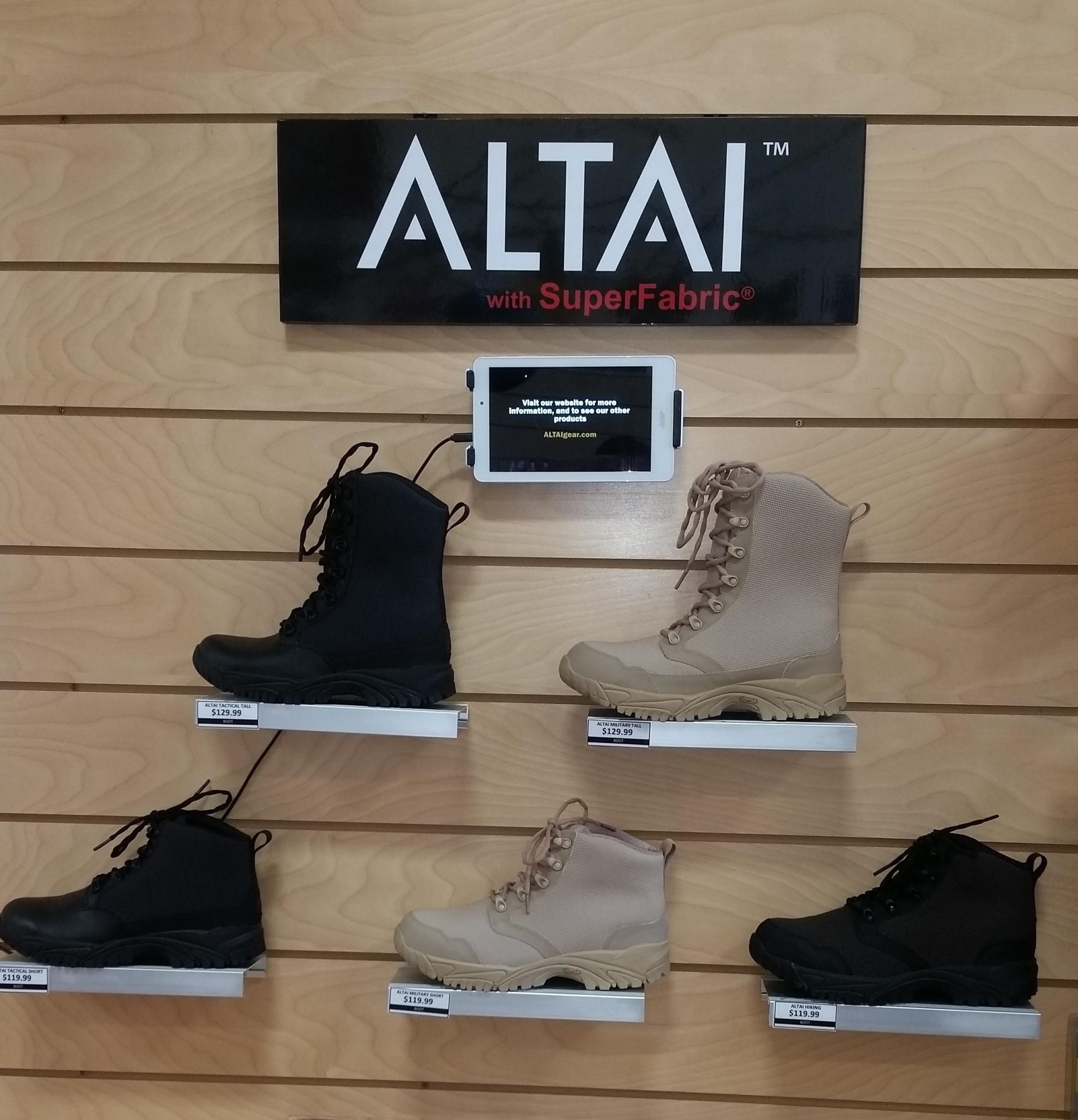 Not much of an online shopper when it comes to purchasing a pair of boots that you'll need to wear for work or leisure? At ALTAI™, we understand that seeing a pair of boots first hand and being able to try them on in the store before you make the purchase is very important. While we do have a strong online presence thanks to our website, we have partnered with reliable retailers in the Midwest that we felt had the same type of passion for the products that they sell as we do with our ALTAI™ tactical boots. We make sure that a wide variety of our boots are available at our retailers including hiking, tactical, law enforcement and tactical boots.
Get to Know the ALTAI™ Boot Retail Partners:
When deciding on the right retail partners for ALTAI™, we wanted to team up with companies that keep their customers needs first and also have a passion for the products that they sell. All of our retail partners exhibit these qualities on a regular basis. At ALTAI™, we are proud to partner with the following boot retailers:
Streicher's - A company that has been in the business since 1953 must be doing something right! Our high quality boots are available in both the Minneapolis, MN and Butler, WI locations. This great retail provider has been serving the public safety field for over half a decade.
Uniforms Unlimited - What better place to sell our diverse boots than at a retail merchant that specializes in uniforms? Kill two birds with one stone by purchasing not only your uniform at Uniforms Unlimited, but also your ALTAI™ tactical boots as well. Our boots are available in their St. Paul, MN and Minneapolis, MN locations.
Guardian Supply - The motto at Guardian Supply, a local retailer in Stillwater, MN, is "Serving those who protect us." We at ALTAI™ bought right into this philosophy and wanted to be a part of it as well. Browse from 7 of our most popular boot styles while shopping at this retailer.
Aspen Mills - Specializing in Fire, EMS, and police uniforms, Aspen Mills is a wonderful retailer in Spring Lake Park, MN that also carries ALTAI™ tactical boots designed specifically for this line of work.
Gear West - If you live in Long Lake, MN, and are more of the outdoors type and love spending your free time camping, hiking or exploring nature, chances are that you have heard of Gear West. Over the last 20 years, Gear West has become one of the premier specialty sports retailers in Minnesota. Stop in and try out one of our 5 boot styles available at Gear West.
International Options - Our retailers are not just in the Midwest. We also have international retailers that carry our ALTAI™ boots as well. These 2 great retailers are Outdoor Life and Black Tactical, and they are located in Singapore.
So, if you are not much of the online shopper, you can still find a pair of reliable and comfortable tactical boots from ALTAI™. Visit one of our retail partners and try on your first pair of ALTAI™ boots today. Give us a call at (800) 806-2611 to learn more about our tactical boots or our partnerships with these wonderful boot retailers.