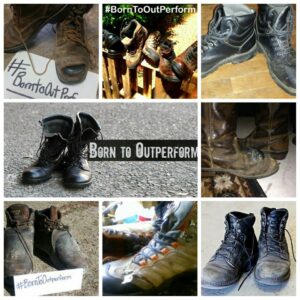 ALTAI™, a leader in the manufacturing of mutli-functional tactical boots recently conducted a boot giveaway to showcase some of the hard workers across our great country. If you weren't familiar with the contest, we asked each contestant to submit a photo of their most worn out boots that they would like to be replaced with a brand new pair of ALTAI™ multifunctional tactical boots. Contestants needed to indicate how the tactical boots were worn and also mention the hashtag #BornToOutPerform to help build buzz on social media about the giveaway.
Winners of ALTAI™ Tactical Boots
We were blown away by the response that we received on social media for our boot giveaway. We received stories of boots that had been glued together and boots with worn out soles resulting in individuals sliding down mountainous terrain. While the decision was difficult we decided to award boots to the top 3 contestant entries based on the number of votes. The following individuals will be receiving a complimentary pair of our top-of-the-line ALTAI™ multifunctional tactical boots:
1st Place – Stephanie Davis
2nd Place – Richard Strong
3rd Place – Aaron Reck
While we obviously couldn't give everyone a free pair of boots, we are happy to offer a discount on our tactical boots for other contestants in the contest. With the coupon codes that will be provided, the tall tactical boots will be priced at only $98 while the short tactical boots will be just $88. Below are the contestants that will be receiving coupon codes for their next pair of boots:
4th Place – Scott Ferenoz
5th Place – Michele Grubbe
6th Place – Austin Groves
7th Place – Bobby Auren
While it usually doesn't pay to have worn out work boots, in this instance it actually did! At ALTAI™ we work extremely hard to develop work boots that are built to last and from materials that will stand up to the test of time. If you notice, none of the contestants were wearing ALTAI™ boots, likely because they take so long to wear out! With a whole host of features such as SuperFabric® Material, VIBRAM® Soles and superior boot last, it's no wonder that our boots are so popular among individuals who put their footwear to the test everyday. If you have any questions about our line of tactical boots, feel free to contact us by phone today at 800-806-2611.
Congratulations to all of the contestants of our ALTAI™ boot giveaway!