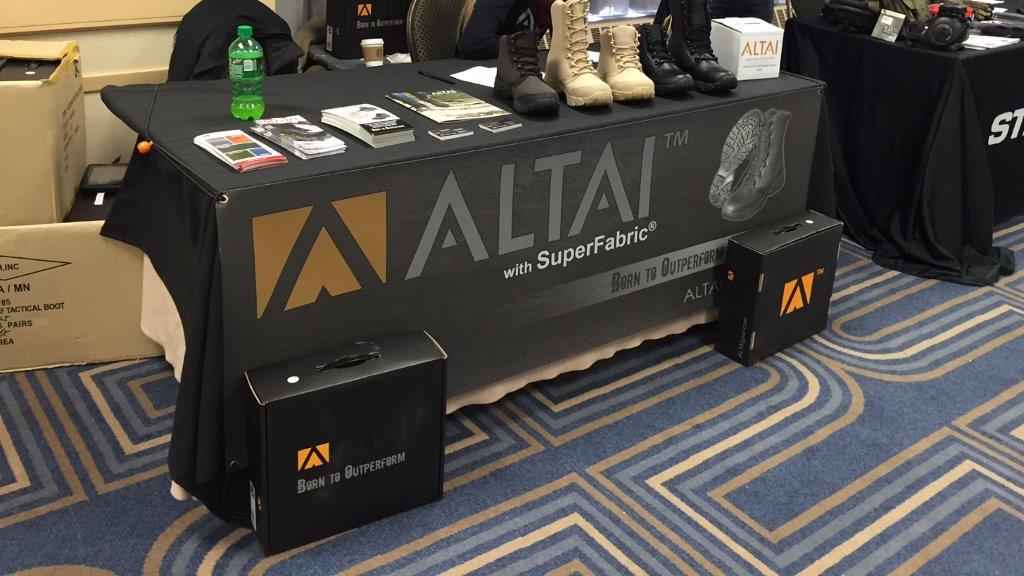 The Association of Training Officers of Minnesota (ATOM) just held their 2015 Winter Leadership Conference and ALTAI™ was there. At the conference, Law Enforcement Officers focus on training for the future while examining incidents from the past. ALTAI™ was able to demonstrate why our MF Tactical Boot is gaining wonderful reviews from LEO's who have worn them on the job. Our lineup of technically advanced, multifunctional tactical boots is the future of protective footwear.
Technologically Advanced Footwear
ALTAI™ Tactical Footwear is gaining traction as the Law Enforcement Boot of the future. Our engineers sought out feedback from current police officers to see what they look for in a boot. The secret weapon is the technologically advanced materials that go into each tactical boot. They are designed to deliver Superior Protection and unmatched comfort.
Innovative Materials
Innovative materials start with the Boot Upper that is made of a Super Hero appropriate textile called SuperFabric®. It utilizes armored platelets that provide protection from just about anything your feet could come in contact with. Air is allowed to flow between the armored plates to allow your feet to breathe. Waterproofing is added to the backing material for added protection from the elements.
The ALTAI™ Tactical Boot Sole combines the comfort of an EVA Midsole with the durability and protection of a VIBRAM® Outsole. They give you out of the box comfort that conforms to the shape of your foot. A high quality, rubber VIBRAM® Outsole gives you unbelievable traction and stability. Each component works together perfectly to deliver unbeatable Protection, Durability and Comfort.
The Future Of Protective Footwear
ALTAI™ Gear is proud to be a part of the ATOM 41st Winter Leadership Conference in Bloomington, Minnesota. We were able to demonstrate what makes our Tactical Footwear stand out. The ALTAI™ MF Tactical Boot provides protection, durability and comfort for Law Enforcement Officers who are training for the future. We believe that you will agree that our technologically advanced footwear is the future of protective gear for your feet.
Order Online Now or Call ALTAI™ Today at 800-806-2611