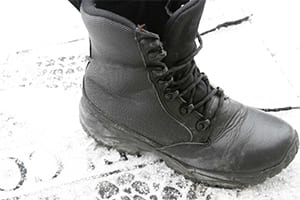 If you work outdoors or you are constantly drudging your boots through harsh environments, it's time that you find a boot that meets all of your work needs! Durable, tactical boots are so hard to come by and often people working in harsh, outdoor environments, find themselves constantly buying new boots due to the everyday wear and tear that they accumulate. If you or someone you know has ever dealt with this issue, it's time to stop looking and start enjoying the comfort and durability of ALTAI™'s all weather-resistant Tactical boot.
Key Features of our Tactical Boots:

SuperFabric®: This material is one of the toughest around! This technologically advanced material is designed to be protective, yet comfortable! Its scientific design has both cloth and armor plates to ensure protection and abrasion, all the while feeling lightweight, flexible and breathable! SuperFabric® has been used in so many rigorous material brands like military apparel, motorcycle apparel, and even the Ferrari 599 GTB! All of these types of applications are known for high amounts of contact with harsh elements! This is just one of the many components that make ALTAI™'s boot the perfect all weather-resistant tactical boot!
The Boot Sole: Made up of the midsole and outsole, this boot contains everything an outdoorsman needs to weather the storm!
The midsole is made up of ethylene-vinyl acetate (EVA) and is known for being waterproof, shock absorbent, lightweight and having excellent stress resistant capabilities. EVA is even found in running and sporting shoes due to its decrease impact on the foot!
The outsole is made up of a material called VIBRAM®. This material is known for being long lasting, as it endures most of the outdoor weather. It is oil resistant, slip resistant, durable, and does not mark. This keeps every ALTAI™ boot wearer safe from the elements!
Waterproof Boot: If you are familiar with the boot market, then you know that most "waterproof" advertisements are false! Companies just spray a chemical on top of a boot and call it "waterproof." The ALTAI™ tactical boot is entirely made up of materials that provide water prevention to the core! It holds true to it's name as the All Weather-Resistant Tactical Boot.
So, if you are in the market for a durable, long-lasting, yet comfortable boot, look no further than ALTAI™'s All Weather-Resistant Tactical Boot. Order directly online or call us today at (800) 806-2611.