Waterproof: to be unaffected by water.
Can you imagine the importance of being unaffected by water? If you work outdoors, we're betting you have a pretty good idea. You could be having the best day in the world but take one step into a puddle and your wet feet will have you begging for mercy and for the day to be over. No one likes wet feet inside their work boots. Heck no! At ALTAI™, we are big fans of comfortable feet and long wear boots! We make our waterproof boots out of water resistant materials that will keep your feet dry and ready for a long day of work outdoors.
The Gimmick of "Waterproof Boots"
Guaranteed, when you go into your local sporting goods store, there will be a sign for waterproof boots. We ask you to please take a closer look! Look at the label! What type of materials did they use? How exactly do they advertise "waterproof boots"? The reality is that most boots are not waterproof. Most boots are sprayed with a synthetic material that eventually wears down, meaning the "waterproof boots" that they claim to be, are now susceptible to being waterlogged boots. Synthetic spray and water resistant materials are two very different things. So if you are looking for long wear boots that also give you comfortable feet, look towards ALTAI™.
Waterproof Boots
ALTAI™'s multifunctional boots are made to withstand all types of outdoor weather. We specifically designed our long wear boots for those who would be outside, trudging through ice, snow, water, and mud. Protecting your extremities and giving you comfortable feet, even in the most extreme conditions, was our main goal.
Waterproof Resistant Materials
We don't feed into gimmicks here. When we say waterproof, we mean it. We use the following water resistant materials:
Waterproof Outsole: The Vibram® outsole is rubber and absorbs no water. It also gives plenty of traction under the water, while also being lightweight and durable to protect your feet from danger.
Boot's Upper: SuperFabric® is a breathable and waterproof material that is also tough as nails! It is made up of both a cloth like material and armor plates. SuperFabric® is waterproof and will protect the upper portion of your boot from getting wet, while also providing you cloth-like comfort.
If you are ready for some long wear boots that give you comfortable feet everyday, consider ALTAI™'s waterproof boots. For more information on our water resistant materials, give us a call today at 800-806-2611 or email us at info@altaigear.com.
Finding a truly waterproof pair of tactical boots this day in age can be very difficult. Sure, there are plenty of types of footwear out there in the industry that claim to be waterproof. However, the term waterproof has become quite a vague term. For most companies in the industry, waterproof just means that the boot was given a spray on chemical treatment in an attempt to repel the water temporarily. This type of waterproofing philosophy loses its effectiveness very quickly. Wouldn't it be nice if there was a truly waterproof tactical footwear that you could purchase on the market? Well, ALTAI™ tactical footwear is exactly what you have been looking for! (more…)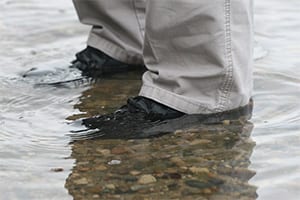 Are you searching for a tactical boot that is not just water resistant, it's waterproof?! Then the ALTAI™ Tactical Boot is your solution, this tactical footwear can guarantee your feet stay dry. Whether you're traveling through swamps, lakes, rivers, creeks, in the rain, melting snow, even providing rescue in a hurricane, the water won't affect your feet.
A Boot Constructed With Waterproof Materials
From the inner-lining to the outer-sole, this boot is constructed of nothing but waterproof materials. All other tactical boots claim to be 'waterproof', when instead they are just doused with chemicals that protect the leather from absorbing liquid. The chemical treatment won't last and the leather will start to break down and disintegrate quickly. There is a possibility of re-treating the boot but many times the damages that occur are the reason you notice the water resistance treatment isn't working anymore and are already to extreme to fix.
Tactical Boot Not Mainly Made Out of Leather
The majority of the ALTAI™ Tactical Boot is not made out of leather, there's a good reason for that. Leather is porous, it soaks in water and doesn't allow the foot to breath, especially when wet. This non-leather tactical boot has so many benefits, the list could go on and on.
Superior to Leather, SuperFabric® Materials
The ALTAI™ tactical boot consist mainly of a highly advanced SuperFabric® Material. This material is surpasses leather in so many ways. It can withstand constant water contact and not absorb a drop.
Benefits of SuperFabric® over Leather:
Lightweight
Breathable
Waterproof
Durable
Flexible
Quick-Drys Surface Moisture
Explore our website to learn more about the benefits of SuperFabric® and the other components that make the ALTAI™ Tactical Boot the best choice for tactical footwear available. Call us with any questions at 651-256-2007 or email us at info@altaigear.com, we're happy to answer any questions you may have.