We had a few specific questions regarding sizing and we know what a pain buying footwear online can be, so we created a measuring chart for your convenience. With a more accurate reading of your foot size, you can make a better informed purchase.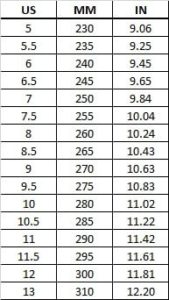 Remember to be mindful of whether you intend to use your boots for summer hiking, winter hunting, fall trekking, or spring ATVing. Keep in mind what type of socks you plan to wear; consider the thickness and how much extra room is required for maximum comfort.
So go ahead, measure up and see what ALTAI™ size is right for you! And as always, feel free to contact us directly with any specific questions about sizing and fit.