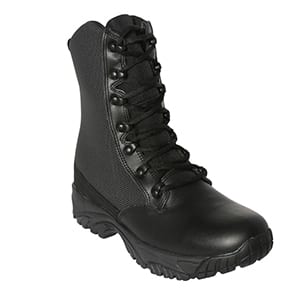 ALTAI™ tactical boots have many benefits, a high list of pros and basically no cons – except for the fact that they only come in black…but that's soon to be a thing of the past because before 2015 we are rolling out the TAN boot! It's official! But let's come back to the present, the here and now. When searching for a quality tactical boot it's important that they protect you and are built to last but it's also an added benefit if they are easy to care for. The ALTAI™ tactical boot has the simplest cleaning technique – EVER!
Materials that make the ALTAI™ Tactical Boot:
SuperFabric Upper
VIBRAM Outsole
EVA Midsole
Rustproof, Metal Eyelets
Polishable Leather Toe
Nylon vs SuperFabric
Nylon is known to be a pain to clean…with extensive, yet not damaging brushing needed and specialized nylon cleaning products or detergents to apply…Washing and polishing one boot can take easily 15 minutes and you've got a pair, so a half an hour is needed, at least to get your nylon or full leather boots to look presentable.
What if I told you a simple water hose is all you need to clean your ALTAI™ Tactical Boots? And if wanted, a little shoe polish for the front, leather toe…Well it's true! Check out this short YouTube Video https://www.youtube.com/watch?v=fi9lIJYlP1M&feature=youtu.be it's only thirty seconds long… while searching through other tactical boot care and cleaning, many of the videos are over 15 minutes long!
No more hard scrubbing, heat gun and multiple products, the design of the ALTAI™ Tactical Boot has been created for the users ease and protection – in all aspects. The materials do not absorb water, so they can be thoroughly hosed down with water and you can see the water actually bead up and drip off, the boots also quick dry, so they will be ready to wear in no time.
If you're particular about your boots, take some polish to the front leather toe. After not even 5 minutes both your boots will look as if they just came straight out of the box…..ALTAI™ still continues to outperform all of its competitors!
Purchase the superior choice in tactical footwear now, or call ALTAI™ for any questions today at 800-806-2611!