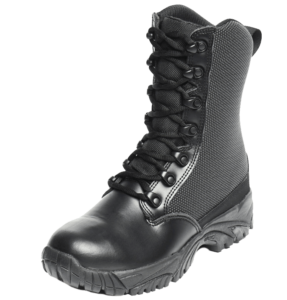 Being a law enforcement officer is no easy task. One of the most difficult parts about the job is that you never know what each work day will bring. You could find yourself behind a desk doing paperwork, chasing a criminal through difficult terrain, or trying to pull a vehicle out of deep mud. In order to be a successful law enforcement officer, your boots can not hold you back from whatever environment you are dealt during your work day. The best way to ensure that your boots don't hold you back is to invest in a reliable, comfortable and protective pair of boots that are built to last. At ALTAI™, that is exactly what you get when choosing to use our lightweight and waterproof tactical boots, plus even more!
Top Notch Boots for All Conditions
When creating our ALTAI™ tactical boots, our primary focus was comfort and protection, the best of both worlds. Thanks to the use of SuperFabric® in the construction of our boots, we're able to keep your feet feeling good and protected, all at the same time. This type of fabric combines cloth and armored plates to create a top notch law enforcement boot. Another reason why law enforcement officers choose ALTAI™ boots over our competitors is because our boots are truly waterproof. So many of our boot competitors claim to offer waterproof boots, but all they really do is use spray on waterproofing chemicals that only work temporarily. By choosing ALTAI™ tactical boots, each and every material used to create these top notch boots can withstand water.
Speed Lacing System
As a law enforcement officer, you have to be ready to go whenever your radio informs you that backup is needed. The last thing that you want to do at that time is tie your shoes. A matter of seconds can be the difference between a life or death situation. Thanks to the ALTAI™ speed lacing system, your boots will stay tied all shift and will maintain a continuous hold so that your boots are on just as tight at the end of your shift as they were when you first put them on.
At ALTAI™, we have a passion for keeping the feet of law enforcement officers safe and protected. If you are in law enforcement and are struggling to find a pair of reliable, long lasting tactical boots that are also comfortable, ALTAI™ has you covered. Give us a call today at (800) 806-2611 or email info@altaigear.com to learn more about our law enforcement boot features.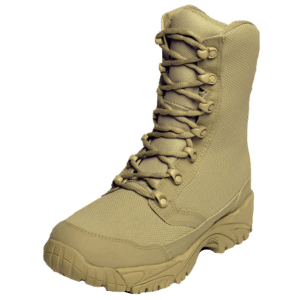 For military personnel, knowing that you're working with reliable equipment is a number one priority; that includes your military apparel from your head to your feet. At ALTAI™ Gear, we feel that one of the most important pieces of military tactical gear you can have is a pair of ALTAI™ combat boots. These tactical boots are like no other, offering amazing comfort and dependability. If you're looking for a durable combat boot that will carry you through any situation in any terrain, look no further than ALTAI™ Gear in Oakdale, Minnesota. This tactical footwear is perfect for local or overseas military and law enforcement personnel, meeting all of your needs on a day-to-day basis.
Durable Military-Grade Combat Boots
What sets ALTAI™ combat boots apart from the rest is their amazing durability and comfort. These durable boots are flexible to accommodate easy movement and stability, water resistant for wetter terrain, abrasion resistant for a longer-lasting tactical footwear solution, and lightweight for comfort and ease of use. Whether you find yourself walking through wetlands or working on a rainy day, you'll find that these waterproof combat boots will keep your feet dry throughout the day. You can also look forward to knowing that, regardless of how wet your boots may get, they'll remain water resistant, ensuring that you have a long-lasting tactical boot. You'll also find that ALTAI™ Gear boots are sweat-resistant, allowing you to move throughout the day in hot temperatures without worrying about your feet sweating. Whether you're working domestically or are serving overseas, it's more comfortable and healthier for your feet to keep your sweat under control, and your boots will last longer without breaking down.
Military Personnel Tactical Boots
The easy mobility of these combat boots makes them the perfect tactical boot for every branch of the military. With added ventilation for a boot that breathes and allows you to keep moving, no matter how far you've gone each day, you can't beat ALTAI™ combat boots. Our boots can protect your feet no matter the weather or terrain, allowing you to worry more about yourself and the people around you and less about whether your shoes will make it through the day. These ALTAI™ Gear combat boots are perfect for men an women.
If you're looking for daily-wear durable military-grade combat boots, look to ALTAI™ Gear for a waterproof, lightweight, durable, flexible, and breathable boot suitable for every branch of the military and law enforcement. Contact our Oakdale, MN office at (800) 806-2611 or info@altaigear.com.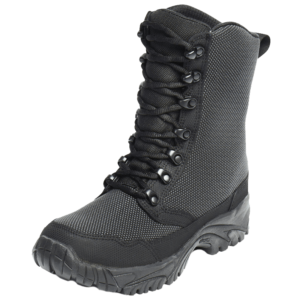 For you active men out there, we have created a boot that will suit your lifestyle needs. ALTAI™ Footwear's lightweight waterproof tactical boots are great for military, police, and firemen, but also serve as great footwear for the adventurers of the world. These are the best hiking boots of 2017.
Here's what makes the best in men's tactical footwear
Durability - These multi-functional boots are made with the highest quality material. They are built to last through the roughest terrain. Whether you're walking in rain or sunshine, you will be able to rest-easy knowing that your adventure or duty will not be interrupted by issues with your boots. They are great for any and all terrain and weather. We know how awful it is when you're out on a hike or run and the rain and mud penetrate your boot and reaches your foot. This is extremely uncomfortable and can force your adventures to come to a halt. We built a boot that won't slow you down.
Great for Everyone - Because these men's tactical lightweight footwear are constructed with the most durable materials and attention to detail, they are great for everyone. Whether you're an adventurer or in the military, police force, or a fireman, you will be able to rely on these boots for your best performance. You will not have to worry about bringing an extra pair of boots no matter where you're going. While we offer the best hiking shoes for men, we also have women's lightweight hiking shoes.
Flexibility - These are the best lightweight tactical boots that are made to last but are not heavy. These boots are durable, yet flexible. They will move with your foot so that you will be as comfortable as possible. You need to be able to move quickly and easily no matter what you are doing. We understand that you need a boot that works with you and not against you so that you can do what you do best. In fact, our boots have been approved by the National Tactical Officers Association because of their performance.
Time-Saver - We understand that in some situations, time is crucial for your needs. You don't want to spend too much time putting on your boots and tying your laces when you are in a hurry. That is why we have created this boot with speed laces meaning you will spend less time lacing and more time on your important tasks.
You'll be surprised with how comfortable these lightweight boots for men are. Whether you're an adventurer or part of the military, police, or fire department, our boots are made to help you do what you do best.
If you're looking for the best hiking, lightweight tactical boots, visit our website for more information.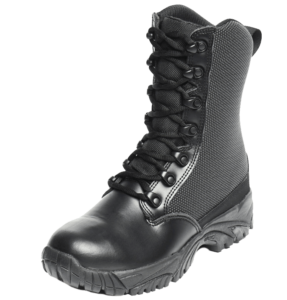 When you have a job to do, it's important that you carry the right equipment with you to get it done. High quality, comfort, support, and protection are important things to look out for when you are trying to find the right pair of tactical boots. At ALTAI™, we have everything you need in a boot to make it worth your while. Our Women's tactical boots are incomparable to the rest.
Rugged Like A Woman
When you think about our tactical boot, you think about something that is strong, durable, and can outlast anything that the outdoors throws its way. Same can be said for a woman. Women are strong, durable, and function at an extremely high capacity. Shouldn't your boots do the same? The upper portion of the boot is designed with SuperFabric®, which is made out of cloth and armor plates. This gives the boot the durable protection it needs while also providing comfort. The sole of the boot is made up of Ethylene-vinyl acetate, also known as EVA. This is a waterproof and lightweight material that is also shock absorbent, providing support and protection for many, many uses. The soles of our women's tactical boots are made of VIBRAM®. This material is tested to withstand just about anything. It is slip resistant, oil resistant, lightweight, durable, and field tested to be perfect for the great outdoors.
Upcoming Features
Not only is our multifunctional tactical boot the right choice, it gets better everyday. This breathable and waterproof boot also can be customized. Need a polishable toe? What about a a toe with SuperFabric®? Advanced mud guard? How about our latest addition: a side zipper on the women's tactical boot?
Women's Sizes
Women are a force to be reckoned with. When a woman is working outdoors, it's important that her force be impactful, not cut short for the lack of support from her boots. This is why ALTAI™ makes tactical boots specific to women and the contour's of their feet. If you are ordering online, consider going down 1.5 sizes in your normal shoe size. Our sizes are approximately 1.5 sizes bigger than your standard shoe. Ensuring that you have the right size makes all the difference in the world.
If you are looking for the right women's tactical boot, look no further than ALTAI™ Gear. For more information about our boots, give us a call today at (800) 806-2611 or send us an email at info@altaigear.com.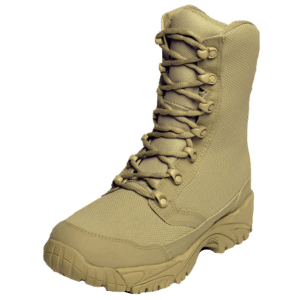 For women, the boot industry can be very frustrating. For some, finding a pair of women's combat boots that are durable, comfortable and protective seems like it is nearly impossible. That is until you try our high quality women's combat boots from ALTAI™. There are quite a few things that set our combat boots apart from the rest, so don't waste your money purchasing another mediocre combat boot that either hurts your feet or wears out extremely fast.
ALTAI™ Combat Boot Details
Serving in the military, you can find yourself in a wide variety of climates and conditions. The expectation is that you should be prepared for whatever types of elements come your way. As a military professional, your success all starts with the comfort and protection of your feet. At ALTAI™, we understand this importance, which is why we put so much time and effort into creating the ultimate women's combat boot. A few of the dynamic details around these top of the line boots that make them perfect for combat include:
● SuperFabric® Material - When it comes to protection and comfort, SuperFabric® cannot be beat. By combining armored plates with extremely comfortable fabric, you receive the best of both worlds when it comes to protection and comfort.
● Lightweight & Breathable - You may often be on your feet for long periods of time as a military professional. With our ALTAI™ women's combat boots, you'll never feel slow or let down thanks to the lightweight and breathability features.
● VIBRAM® Soles - What good are a pair of boots that don't last long? At ALTAI™, we've incorporated one of the best soles on the market, VIBRAM®, into our women's combat boots. Thanks to the anti-clogging tread, you can say goodbye to that annoying buildup that has happened with so many of your other boots in the past.
● Waterproof - We take the term "waterproof" seriously at ALTAI™. Rather than applying a temporary spray or waterproof application to the boots, each material used to create these combat boots can withstand water.
Women's Combat Boot Options
At ALTAI™, we currently offer three types of women's combat boots for you to choose from. These include:
● ALTAI™ MF 8" Tactical Boot Model: MFT200
● ALTAI™ MF 8" Military Boot Model: MFM100
● ALTAI™ MF 8" Military Boot Model: MFM *Discontinued Model Closeout*
At ALTAI™, we're committed to removing the sour taste in your mouth that you have about women's combat boots. If you are looking for a pair of combat boots that will keep you protected, are comfortable, and built to last, look no further than our high quality women's combat boots. Give us a call today at (800) 806-2611 or email info@altaigear.com to learn more.