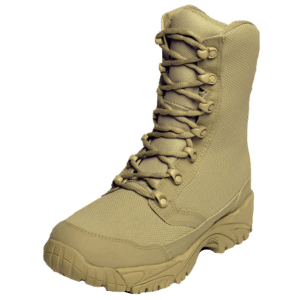 For military personnel, knowing that you're working with reliable equipment is a number one priority; that includes your military apparel from your head to your feet. At ALTAI™ Gear, we feel that one of the most important pieces of military tactical gear you can have is a pair of ALTAI™ combat boots. These tactical boots are like no other, offering amazing comfort and dependability. If you're looking for a durable combat boot that will carry you through any situation in any terrain, look no further than ALTAI™ Gear in Oakdale, Minnesota. This tactical footwear is perfect for local or overseas military and law enforcement personnel, meeting all of your needs on a day-to-day basis.
Durable Military-Grade Combat Boots
What sets ALTAI™ combat boots apart from the rest is their amazing durability and comfort. These durable boots are flexible to accommodate easy movement and stability, water resistant for wetter terrain, abrasion resistant for a longer-lasting tactical footwear solution, and lightweight for comfort and ease of use. Whether you find yourself walking through wetlands or working on a rainy day, you'll find that these waterproof combat boots will keep your feet dry throughout the day. You can also look forward to knowing that, regardless of how wet your boots may get, they'll remain water resistant, ensuring that you have a long-lasting tactical boot. You'll also find that ALTAI™ Gear boots are sweat-resistant, allowing you to move throughout the day in hot temperatures without worrying about your feet sweating. Whether you're working domestically or are serving overseas, it's more comfortable and healthier for your feet to keep your sweat under control, and your boots will last longer without breaking down.
Military Personnel Tactical Boots
The easy mobility of these combat boots makes them the perfect tactical boot for every branch of the military. With added ventilation for a boot that breathes and allows you to keep moving, no matter how far you've gone each day, you can't beat ALTAI™ combat boots. Our boots can protect your feet no matter the weather or terrain, allowing you to worry more about yourself and the people around you and less about whether your shoes will make it through the day. These ALTAI™ Gear combat boots are perfect for men an women.
If you're looking for daily-wear durable military-grade combat boots, look to ALTAI™ Gear for a waterproof, lightweight, durable, flexible, and breathable boot suitable for every branch of the military and law enforcement. Contact our Oakdale, MN office at (800) 806-2611 or info@altaigear.com.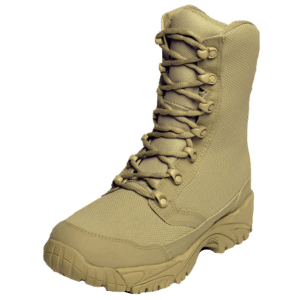 For women, the boot industry can be very frustrating. For some, finding a pair of women's combat boots that are durable, comfortable and protective seems like it is nearly impossible. That is until you try our high quality women's combat boots from ALTAI™. There are quite a few things that set our combat boots apart from the rest, so don't waste your money purchasing another mediocre combat boot that either hurts your feet or wears out extremely fast.
ALTAI™ Combat Boot Details
Serving in the military, you can find yourself in a wide variety of climates and conditions. The expectation is that you should be prepared for whatever types of elements come your way. As a military professional, your success all starts with the comfort and protection of your feet. At ALTAI™, we understand this importance, which is why we put so much time and effort into creating the ultimate women's combat boot. A few of the dynamic details around these top of the line boots that make them perfect for combat include:
● SuperFabric® Material - When it comes to protection and comfort, SuperFabric® cannot be beat. By combining armored plates with extremely comfortable fabric, you receive the best of both worlds when it comes to protection and comfort.
● Lightweight & Breathable - You may often be on your feet for long periods of time as a military professional. With our ALTAI™ women's combat boots, you'll never feel slow or let down thanks to the lightweight and breathability features.
● VIBRAM® Soles - What good are a pair of boots that don't last long? At ALTAI™, we've incorporated one of the best soles on the market, VIBRAM®, into our women's combat boots. Thanks to the anti-clogging tread, you can say goodbye to that annoying buildup that has happened with so many of your other boots in the past.
● Waterproof - We take the term "waterproof" seriously at ALTAI™. Rather than applying a temporary spray or waterproof application to the boots, each material used to create these combat boots can withstand water.
Women's Combat Boot Options
At ALTAI™, we currently offer three types of women's combat boots for you to choose from. These include:
● ALTAI™ MF 8" Tactical Boot Model: MFT200
● ALTAI™ MF 8" Military Boot Model: MFM100
● ALTAI™ MF 8" Military Boot Model: MFM *Discontinued Model Closeout*
At ALTAI™, we're committed to removing the sour taste in your mouth that you have about women's combat boots. If you are looking for a pair of combat boots that will keep you protected, are comfortable, and built to last, look no further than our high quality women's combat boots. Give us a call today at (800) 806-2611 or email info@altaigear.com to learn more.